Chiropractic Memphis Germantown/South Wind Office is sponsoring a free community healthy life Style Clinic dinner inviting the Southwind Germantown Memphis TN community to come join them on Monday April 30th for vibrant lives for family and friends. Reservations required by calling 901.795.6363 Ext 1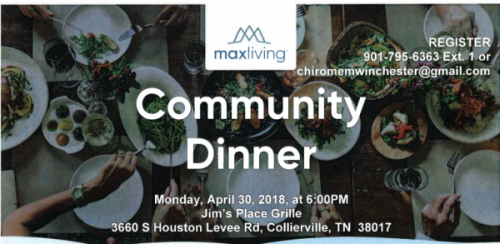 Memphis, United States - April 25, 2018 /PressCable/ —
April 24th Germantown TN
Chiropractic Memphis Germantown/South Wind Office is sponsoring a free community dinner inviting the Southwind Germantown and surrounding community to come join them on the journey to a healthy nervous system and holistic healthy lifestyle choices. The importance of a healthy nervous system is a key factor that impacts overall health conditions for everyone. Their will be testimonials presented of clients who have experienced the journey to a fully vibrant pain free lifestyle by using the key factors illustrated by the Chiropractic Memphis Southwind team of professionals.
The dinner talk sponsored and presented by Dr. Alan Arstikaitis will include education on healthy nutritional food choices and preparation for individuals and families. Dr. Alan comments " As a total health chiropractic practitioner my professional team has served the greater Memphis TN area to include the Southwind Germantown TN community for over 20 years. As a Maximized Living franchise, this optimal team has successfully assisted our patients of all ages that had issues with health conditions such as obesity, chronic pain, migraine headaches, lower back pain and even those with spinal discs issues including degenerative discs. Our patient consultation approach for every patient is to take into consideration their entire lifestyle to include the type of work they do, personal health and family health history, level of exposure to sunlight and toxins and very importantly, their daily diets and exercise routines. With this insightful knowledge, our team then can create a unique health recovery plan specific to that patient's total current lifestyle and goals, which may or may not include chiropractic adjustments. Over the last 20 years we have helped people of all ages starting from infants, young children, young adults, seniors and those active in sports such as golfers, runners, tennis players and any other sport that usually will cause some level of overuse of the body. We invite the community to this free dinner presentation and encourage them to include their family and friends. Our mission is to inspire our community to choose healthy lifestyles and that is really easy to do with the proper education."
Additionally, the focus of the free dinner talk will provide instruction on how each individual can practice healthy nutrition choices with basic exercise routines that will empower them toward healthy, more vibrant lifestyles. The talk will include specific information back by scientific studies on how the fast food mania and the American Food Diet is actually ruining the current and future health of the family unit while causing an overwhelming epidemic of obesity in America.
The program will also review the danger of the most prevalent commonly prescribed pharmaceutical drugs that cause more damage than cures and the health risks backed by scientific studies that have been published by many accredited sources which will be provided at the event. Natural free non prescription alternative options will also be part of the presentation for further review and study by the attendees.
The free community dinner event will be held at Jim's Place Grille, 3660 S. Houston Levee Rd, Collierville TN 38017 on Monday April 30th 2018 at 6:00 PM Central Time.
RESERVATION REQUIRED. Call 901.795.6363 Ext. 1 or email ChiroMemWinchester@gmail.com
Contact Info:
Name: Dr.Alan Arstikaitis
Email: Tera@chiropractic-memphis.com
Organization: Chiropractic Memphis
Address: 7870 Winchester Road, Memphis, TN 38125, United States
Phone: +1-901-795-6363
For more information, please visit https://chiropractic-memphis.com/about-us/germantown-southwind/
Source: PressCable
Release ID: 336035